Count it all Joy ……….. Really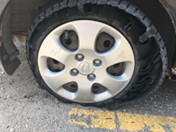 Summer is a season that brings images of long, lazy days, ice cream cones, and road trips with the windows down and the AC on if it is working.
But on one scorching hot day last week, as I embarked on an ordinary journey home, I found myself facing an unexpected challenge that tested my patience and faith. It was a day when my car's flat tire taught me the valuable lesson once again of finding joy in adversity, even when I didn't feel the least bit joyful.
Have you ever felt like that?
The sun blazed all day making it feel like a real scorcher and to add to the heat of the day my AC was not working. Although my destination was only 30 min away, my trip was sidetracked and so was my mental mindset.
Just as I felt a not so subtle but unmistakable shift in the car's handling my heart sank; a flat tire was the last thing I needed, wanted or anticipated.
As I was pulling over, I was thankful that I had CAA to call to come to my rescue.  And in record time they arrived and 15 min later they had done the tire change. I took a deep breath and reminded myself of the biblical wisdom that encourages believers to "Count it all joy." In James 1:2-3, where it says, "Consider it pure joy, my brothers and sisters, whenever you face trials of many kinds because you know that the testing of your faith produces perseverance." It was a verse that had always resonated with me, but in that moment, it seemed far easier said than done.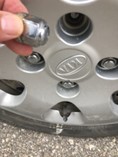 Have you ever felt like that?
Well as I had taken my tire to my "Tire Guy" to get the new tire put on he asked me "Who put the spare on?"  As he informed me that they had cross-threaded a bolt and that it would probably break, which it did as he began to take out that last bolt. And being it was they end of the day he could not repair the broken bolt. Count it all Joy ……
With a shredded flat tire and a busted bolt, it all certainly had challenged me to look beyond my initial frustration and annoyance and seek the joy that could be found as I chose to press through.
Later as I sat on the deck as the sun began to set, I was reflecting on the events of the day. I thought back once again to the Biblical verse about counting it all joy in the face of trials even as trivial as this may have been.
But it occurred to me that joy wasn't about denying the existence of difficulties or pretending to be happy in every circumstance. Instead, it was about choosing to see the silver lining, finding gratitude in the midst of adversity, and recognizing that even from the smallest to the most challenging moments in life it all can lead to personal growth and unexpected blessings.
The truth is, joy is not a constant emotion, and it's perfectly normal to feel frustration, disappointment, or even anger when life throws us a curveball. It is what we do with those feelings that matters.
What the Bible teaches is not to suppress those feelings but to seek joy beyond them, to trust that there is a purpose and a lesson in every trial however big or small. And would you agree that sometimes the lesson is not as plain to see as you would like.
It had all reminded me again that even in the face of a minor challenge, there is always an opportunity to grow, learn, and to find joy. Which I did! Remember my friend when we are pressed and squeezed from all sides what is on the inside will come out.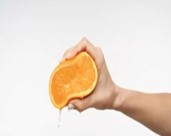 So, I ask you, have you had a chance recently to press through a challenging moment with joy?  Possibly with situations at home, with your spouse, kids or in-laws. Maybe at work with coworkers a boss or employees or some other area you are involved in?  What about with your finances or health concerns? With any current challenges our task is to find a newfound appreciation for the wisdom of counting it all joy, even when joy seemed far out of reach.
So, with the minor setbacks that day or major setbacks I may face I was certainly reminded that true joy is not dependent on external circumstances but is a choice we make, a perspective we adopt, and a faith we hold onto in our loving Lord, even on the hottest of summer days with a flat tire and a busted lug bolt.
I'm counting it all Joy my friend
Be blessed
Art